Integrity - Quality - Service
SUMMARY
Dentist in Spokane, WA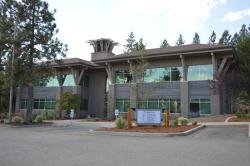 If you're looking for a dentist in Spokane, WA, you've come to the right place. TruDental is an established dental practice with a modern approach to oral care. Our goal is to provide quality care to every patient who walks through our doors, and we achieve this objective through attentiveness, open communication, and patient education.
The Right Dentist for You
At TruDental, we believe that a visit to the dentist should be as pleasant and stress-free as possible. That's why our Spokane, WA dental office was designed to keep patient comfort in mind. Whether you need to schedule a general checkup or require more extensive dental work, we'll address any concerns you might have prior to treatment and answer all of your questions in a relaxed, pressure-free setting. At our dental practice, we offer:
Easy appointment scheduling
Convenient office hours
A caring, attentive dental staff
Flexible payment options
We are committed to providing optimal dentistry in a comfortable and caring environment. Going to the dentist can be a nerve-wracking experience for many, which is why TruDental in Spokane, WA, strives to offer gentle methods in a friendly, welcoming dental office environment.
We are dedicated to integrity, quality, and service
Through our highly trained, caring staff and personalized treatments, our goal is to give our patients the peace of mind that comes with knowing that they are well taken care of.
Our aim is to treat you like family
This personalized approach is reflected in how we work together with and educate you regarding your oral health, and how we interact as a team. As a Spokane dental clinic, we believe in providing excellent dentistry based upon current research, techniques and materials.
We strive to exceed your expectations!
If you're in need of basic care or you've been diagnosed with a condition such as gum disease which requires treatment in Spokane, WA, TruDental is just a quick phone call away. Thank you for placing your trust in us. We look forward to seeing you!
We Want to Hear From You
We invite and encourage you to learn more about our unique approach to dentistry. To speak to a member of our office staff or to set up an appointment, call TruDental today.
SERVICES
Dental Bridges
Missing teeth can have a serious effect not only on your smile, but also on your oral health. Missing teeth can impact the alignment and integrity of your surrounding teeth, causing you further problems down the road. And missing teeth can also result in unwanted periodontal disease and decay. If you're missing teeth, come to TruDental, a Spokane, WA dentist office that provides dental bridges to patients in need.
Read MoreR
Dental Crowns
Are you tired of staring at that chipped tooth at the front of your mouth? TruDental may have the answer, and it comes in the form of dental crowns. As a trusted dentist office in Spokane, WA, we offer crowns for cosmetic and restorative purposes so that our valued patients can enjoy their smiles while preserving their oral health.
Read MoreR
Dental Veneers
Are you tired of walking around with unattractive teeth? TruDental may be able to help. At our dental practice in Spokane, WA, we offer veneers to patients looking to improve the appearance of their smiles.
Read MoreR
Emergency Dentistry
Dental problems don't always happen at convenient times. At TruDental, we understand that tooth pain and oral injuries can occur when you least expect them to. That's why we tell our patients in Spokane, WA that when dental emergencies arise, they shouldn't hesitate to give us a call. We offer emergency dentistry services to address dental issues that simply can't wait.
Read MoreR
Very friendly professional care.
Crystal is a gem!
Had my routine 4 month cleaning. Crystal was running behind schedule and the staff members kept me updated. When it was my time to go back, Crystal didn't cut any corners and gave me the time that was needed to receive a complete cleaning. She takes the time to review my chart prior to the appointment, so she knows where my problem areas are and also is aware of any oral sensitivities and adjusts her cleaning procedures accordingly. I look forward to each and very visit with her. She makes visiting the dental office a lot less stressful. Thank you Crystal.
Great Dentist
Dr Nielsen performed an extraction and repaired old work. This is the first time in my life I wasn't in pain after the anesthesia wore off.
Great people to be around
I enjoyed my visit and meeting Dr. Nielsen. Although there are a couple new faces in the office since my last visit, my examination and cleaning were done in the same comfortable and profession manner as always.
Wonderful care!
I visited Dr. Truman Nielsen for a temporary crown placement. He was efficient, professional and friendly. The work he completed was timely and a complete success. His staff is very competent and knowledgeable. I would not hesitate to recommend this office.
Excellant customer service & dental procedure
This was a great appointment. My husband and I have gone to this dentist for a little over a year since moving here, experiencing excellent gentle care from Dr. Fawson & then an equally good experience with Dr. Truman. This appointment was no charge which was very nice. I needed my night guard checked, it was older & didn't fit well. Instead of trying to sell me a new one Dr. Truman fixed up the old one so it fit better & didn't charge me a dime. Who does that anymore? Thanks Doc for the tuneup on the night guard & saving my wallet. I appreciate your honest & professional care more than you can imagine. Highly recommend this dentist.
Excellent and prompt appointment.
A loose implant was discovered during a cleaning. Dr. Neilson and staff got me in quickly for an emergency appointment.
Great Staff
I met Dr. Neilson today at my appointment for my cleaning and check. He is very personable and thorough. Very impressed with the staff and my cleaning and their knowledge.
Excellent service and great people
Fabulous staff and hygienists! I actually look forward to getting my teeth cleaned! They take great care making sure my teeth get cleaned well without causing pain with my sensitive teeth. I met Dr. Neilsen and he was very nice, professional, and thorough. He also explained some of the science behind oral care and orthodontics, which was interesting and unexpected. I appreciate learning the "why" behind what I'm doing!
Exceptional customer service
Just recently changed to Fawson dentistry for the entire family. The staff and Dr.Neilsen are wonderful professional and caring. All wanted to make our dental experience great. And did! I have never been a fan of the gum line probing or X-rays the hygienists were very kind and gentle. Dr. Neilsen exam was thorough and took the time to explain the exam. The office staff also went above and beyond answering all of my questions about insurance fees ad services and really work with you in scheduling appointments.
8/4/17 visit
It seems that at each visit to Dr. Fawson's office there is new staff. This has been a constant when I visit. So when I arrived at my visit on Friday 8/4 I was not surprised to be taken back by a new hygienist. What did surprise me was that Dr. Fawson is no longer there. I was not informed when I was taken back for my examination and I did not receive any notification. My husband was in the week prior, saw Dr. Fawson and was never told he was leaving. This is disappointing. When Dr. Fawson came to the office we received a letter in the mail as well as when we entered the office there was a letter introducing him to his new patients. With that being said this was by far one of the best visits I have had in several years. Alex was extremely friendly and she was very gentle. Dr. Nielson seems very nice and I am looking forward to continuing my care there.
Best Dentist.
Best experience you could have at the dentist. Trustworthy, gentle & the only reason I have a great smile.
Outstanding!
Great, efficient, personable, professional - awesomeness!! Was glad I got re-scheduled in order to have Elissa (sic?) for her final day there :( :(.
Emergency Exam
Found an office that advertises emergency care and was actually open and providing it. Everyone I dealt with was great. They spent the time needed for a thorough exam and explanation of the result. I would certainly go back to this office.
Very pleasant visit today. Dentist and nurse very polite and carrying about all my "hang-ups"as were the office staff.
Teeth Cleaning
Everyone at the office is great!
Cheerful and Professional
It was good to catch up with Dr. Fawson and to learn how his children are doing. Elissa is always so cheerful and positive. We could talk through my appointment!
Customer care
When the hygienist was sick on the day my cleaning was scheduled, the Dr. adjusted his schedule enough that he could do the cleaning for me so I didn't have to reschedule.
As always Dr. Fawson's office has always worked with me and I will continue to return!
Quality service, comfortable atmosphere and surroundings
I found the staff very courteous, friendly and informative . . . All staff and Dr. Fawson werre professional and all questions were answered; every effort was made to make me as comfortable as possible under what could have been a "not comfortable" experience. I would not hesitate to recommend Fawson Dentistry to anyone.
Great Service!
Dr. Fawson and his staff are wonderful. I don't dislike going to the Dentist anymore! I have had cavities fixed and crowns put on and cleanings and have never had a problem. Dr. Fawson often calls in the evening to see how I am doing!
The dentist is never something I look forward to but Fawson Dentistry makes it very pleasant.
Great attention to detail
Dental care at Fawson Dentistry exceeded my expectations. The greatest care was taken to ensure that I was comfortable and that the procedure was pain-free. The staff was very pleasant. The resulting composite filling blends in perfectly with the surrounding tooth. I would definitely recommend this practice to others.
Very Professional
I had a crown come off on Thursday. Dr. Fawson took me right in on Friday and took care of it. He is great.
Always a Good Experience
Dr Fawson and his team are always courteous and knowledgeable. Going to the dentist doesn't have to be a pain and Dr Fawson and his team strive to make your visit comfortable and personable. I highly recommend Dr Fawson dentistry to anyone looking for a dentist office in Spokane!
Wonderful friendly staff
Caring and friendly. Provides great professional care and concern for clients.
Fantastic office staff and Fantastic dental staff
I will certainly say it only continues to improve at your office. Nearly each appointment something sticks out as improved or changed that is just a nice touch.
Always make going to the dentist a pleasant experience.
Friendly, fast, fun (!) & fabulous
Great staff, always friendly and efficient. Dr Fawson's calming personality and professionality permeates the whole staff. They make a dental appointment something to look forward to!
Excellent service
Always kind and welcoming staff. Excellent services and they have been great with my children. I'm so happy to have found them.
Professional Staff
Great place and caring staff!
Totally awesome!
A totally awesome experience. No pain during or after the tooth extraction last week and today's cleaning! The staff is extremely professional and empathetic to their patients. For all of Dr. Fawson's humility, he truly is professional and understanding of my needs.
It was a very good experience. My teeth were cleaned very professionally by a wonderful person.
I love clean teeth!
I had a wondeful time in the chair this morning. My checkup was as I expected as far as my teeth are concerned; all good. My visit today was extra special seeing an old friend who now works there. She followed me from my previous dentist, although i'm sure it wasn't intentional? And I got acquainted with the dental hygienist who is new since my last checkup, but fits right in to the friendly and professional environment. Thanks for starting my day off in such a positive way.
Friendly nice environment very professional great staff honest
First of all, they got me in quickly, the staff is excellent, their return phone call was on time, once there, reception answered most of my questions before I asked, I was seen quickly, the Dentist is caring and gentle, I was presented with options that were cost saving and they were presented in a professional, yet very friendly way. I found the Dr & Staff to be warm and caring, I look forward to getting the work I need completed with this team!
Quick to action
If you are tired of waiting for weeks or months to get an appointment with your dentist then you need to call Dr. Fawson for and appoint. When I called I was pleasantly surprised at how quick I was able to get an appointment and how quick they where able to schedule my follow up work. I was impressed with the friendly staff and the thorough exam. As good as a visit to the dentist can get. Thanks Dr. and staff.
Professional and Courteous
As always, friendly and professional.
Very Kind, reasonably priced, excellent work. I had extensive restoration work done - the results were terrific. I experienced no discomfort before/during/after procedures. I have received many compliment. Dr. Fawson takes the time to explain the procedure and is a good listener as well.
Fast, friendly, pain-free!
Dr. Fawson, hygenists, office staff et al were all friendly, helpful, fast and professional
Krystal
Chrystal has a great demeanor and gentle touch. She put me at ease and worked quickly even though I wanted to tell her my whole life's story, personable and professional.
Excellent and prompt appointment.
I was ushered in promptly by the Hygienist who cleaned my teeth and then saw Dr. Fawson, who checked my out and made recommendations.
Excellent service!
Amazing staff, stayed after hours to help me with a dental emergencies. Fun, friendly, light hearted staff. Great service and communication throughout the whole visit. Highly recommend!
Always happy with the care from Fawson
Hesitant
I was hesitant to go to a dentist,it's been many,many years since I was even at a dentist. When I walked in the door for the first time I was greeted by the receptionist, sorry,not good with names :),and by Dr.Fawson. They made me feel comfortable, made an initial appointment, went to my appointment and had very good care while there and Dr.Fawsom did an amazing job on explaining everything to me. I'm very impressed and feel very comfortable :).
prompt and professional. complete
professional and complete in work done.
Very nice
I had a great appointment with caring Dentist and Staff.
Always have a great experience when I have an appointment. They are very professional as well as friendly.
As painless as possible
The doctor and staff took care of me as they always have. They provide constant feedback and check on my comfort level regularly.
Professional, personal and precise
At Fawson Dentistry I had the best dental care of my life. They cleaned, polished, and x-rayed all quicker than I'd planned for and informed me of my best care options. I was almost happy to hear I had 4 cavities. I appreciate the work Diana and Dr. Fawson were able to provide. I'll for sure be back and tell all my friend THIS is the place to get your dental work done!
Great
Staff and doctor were kind in their behavior toward me, helpful in explaining care and treatment, understanding of my financies, and they did not pressure me.
Great attention to detail
The treatment I received was professional, expert, and detailed. Dr. Fawson and his staff took the time to really make my teeth look great!
Good service
Dr Fawson does very well at minimizing the stress of complex dental care. He is gentle and quick and makes personal follow-up calls after hours.
Share Us With Your Friends and Family
Message Sent. Thank you for contacting us. We will be in touch with you shortly.
Send A New Message
Contact
TruDental
2204 E. 29th Avenue
Suite 208
Hours
Mon - Fri:

8:00am

-

4:00pm

Weekends:

Closed
Qualifications
American Dental Association (ADA)
Washington Dental Association
Spokane District Dental Society
Academy Of General Dentistry (AGD)
Seattle Study Club